SIC silicon carbide ceramic foam filter for foundry industry
SIC silicon carbide ceramic foam filter for foundry industry
| | |
| --- | --- |
| Packaging: | wooden pallet or wooden carton with carton |
| Brand: | NANXIANG |
| Place of Origin: | Jiangxi, China (Mainland) |
Product Description
SIC silicon carbide Ceramic Foam Filter for foundry industry
SIC silicon carbide ceramic foam filter for foundry industry
SIC ceramic foam filter for foundry industry
 Introduction:
SIC ceramic foam filter  are mainly used for filtration of aluminium and aluminium alloys in foundries and cast houses . With their excellent thermal shock resistance and corrosion resistance from molten aluminum, they can effectively eliminate inclusions, reduce trapped gas and provide laminar flow, and then the filtered metal is significantly cleaner. Cleaner metal results in higher-quality castings, less scrap, and fewer inclusion defects, all of which contribute to bottom-line profit.
Features:
 SIC Ceramic Foam filters are just developed as a new type molten metal filter to decrease casting flaw in recent years. With its characteristics of light-weight, high mechanical strength, large specific surface areas, high porosity, excellent thermal shock resistance, erode resistance, high-performance,SIC Ceramic Foam filter is designed for filtering impurities from molten Iron & Alloy, nodular cast iron castings, grey iron castings and malleable castings, Bronze casting, etc
Maximum Temperature
Up to 1000C for porous ceramic, limited only by sealants, gaskets and/or hardware materials.
Corrosion Resistance
Porous ceramics are resistant to most acids, except for Hydrofluoric Acid and Phosphoric Acid. In alkaline solutions, porous ceramics are resistant up to pH9. It is also resistant to organic solvents. The sealants, gaskets and/or hardware materials used, may be the limiting factor in certain fluids.
Cleanability
Porous ceramic is cleanable by a variety of methods, depending on type of contaminant to be removed. Methods include spraying, brushing, backwashing, oven firing, dilute acid cleaning, solvent cleaning, steam cleaning and ultrasonic cleaning.
 Size
The size are available in square, round and custom geometric shapes; sizes ranging from 10mm up to 600mm, and thicknesses from 10-50mm. The most common porosities are 10ppi, 15ppi, 20ppi, 25ppi. Higher porosities are available upon request. Custom-made cut-to-size filters are also possible.
Common size in Round shape:
40x11mm, 40x15mm, 50x15mm, 50x20mm, 60x22mm,
70x22mm, 80x22mm , 90x22mm,100x22mm, 305x25mm
Common sizes in Square shape:
40x40x13mm, 40x40x15mm, 50x50x15mm, 50x50x22mm, 75x75x22mm,
50x75x22mm, 100x75x22mm, 100x100x22mm, 55x55x15mm, 150x150x22mm 
Physical Properties for SiC Ceramic Foam Filters
| | |
| --- | --- |
| Porosity(%) | 80~90% |
| Working Temperature | ≤1500°C |
| Bending Strength(Mpa) | 0.8 |
| Compression Strength(Mpa) | 0.9 |
| Thermal Shock Resistance | 1100°C---room temperature 6 times |
| Volume Density | 0.4-0.5g/cm3 |
 Product shows: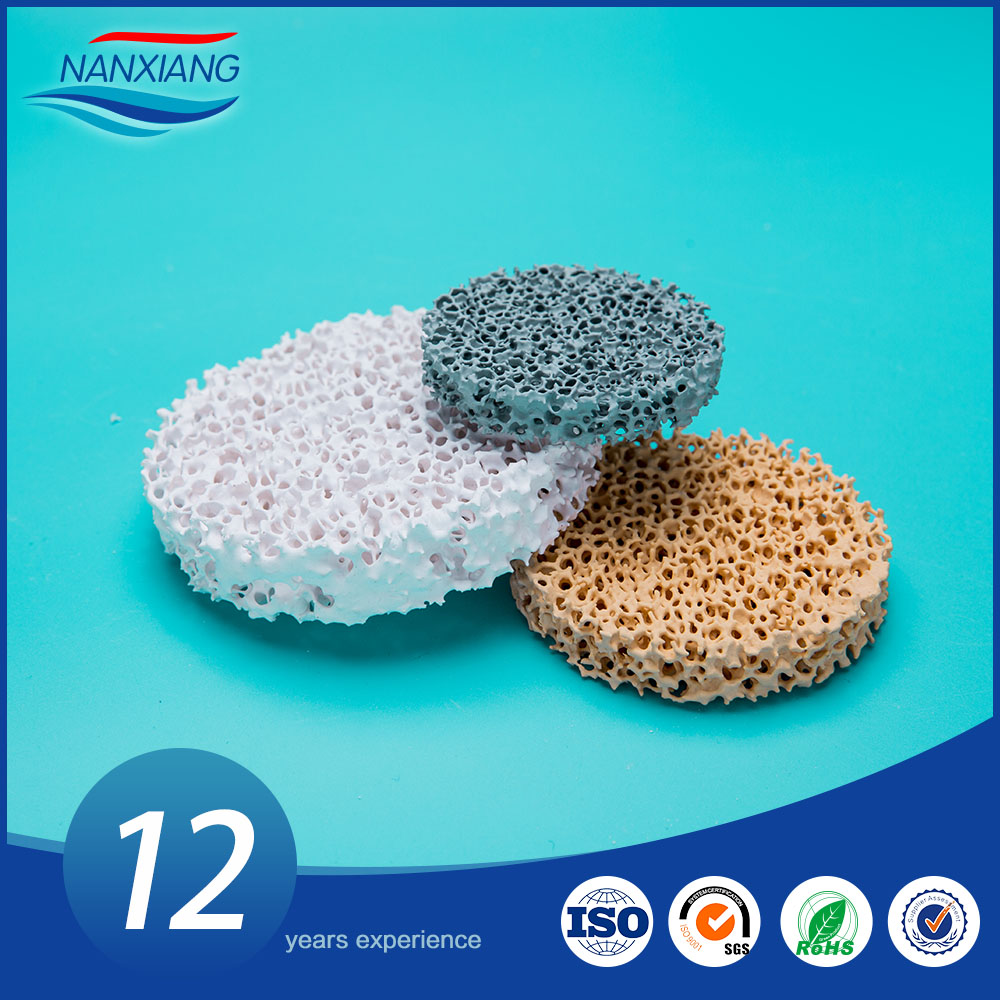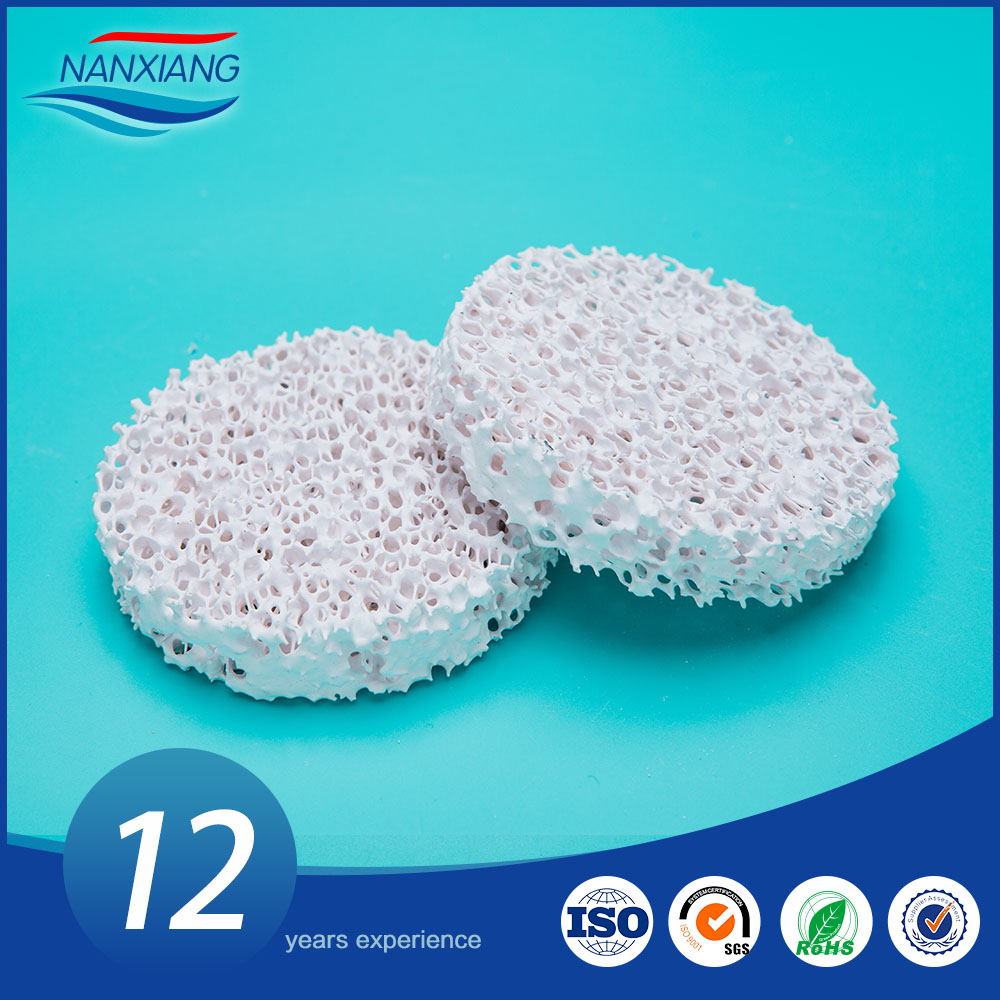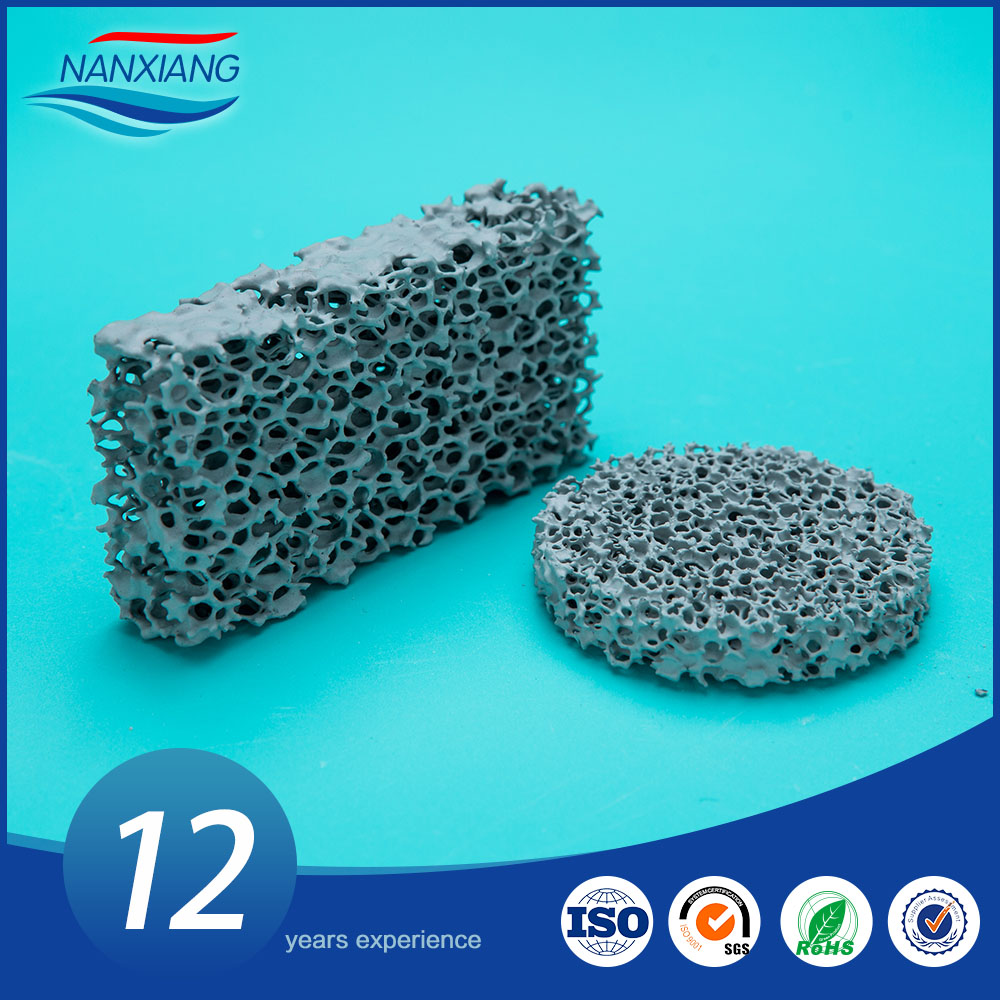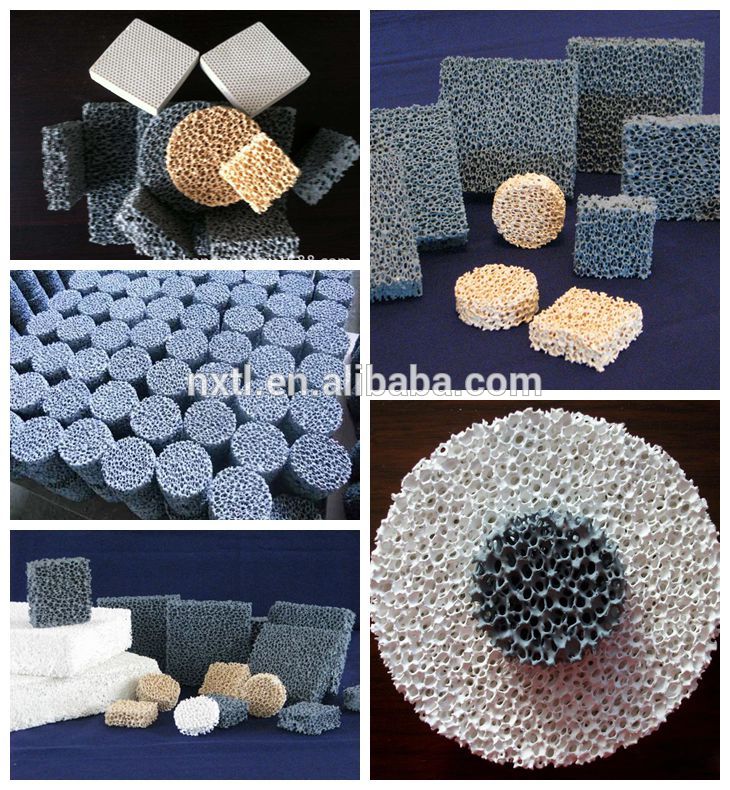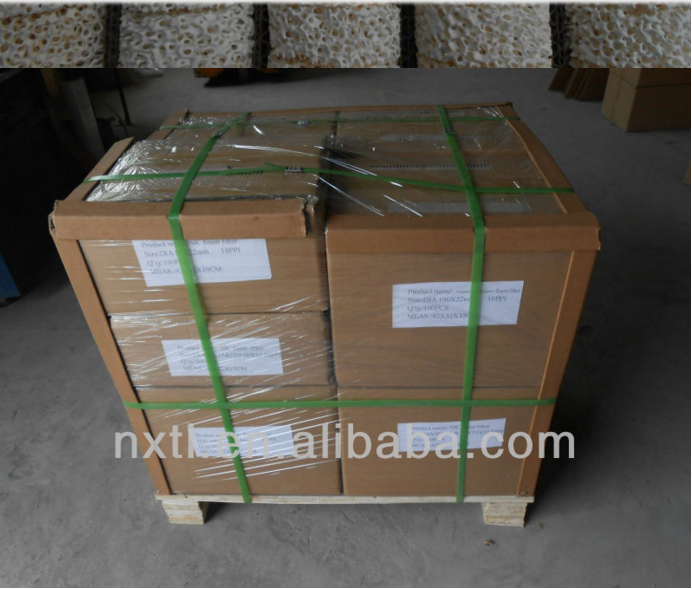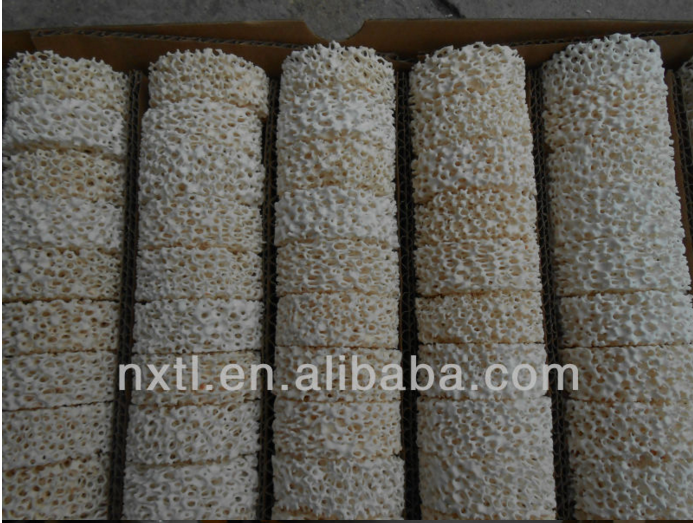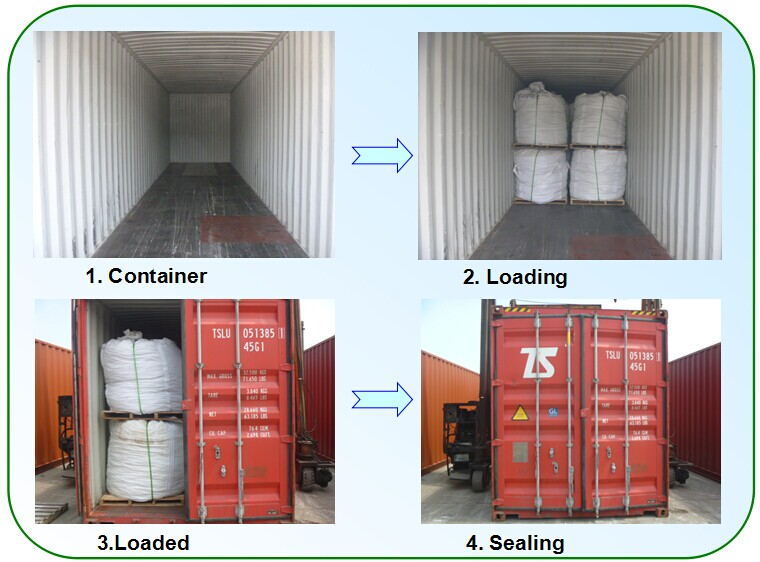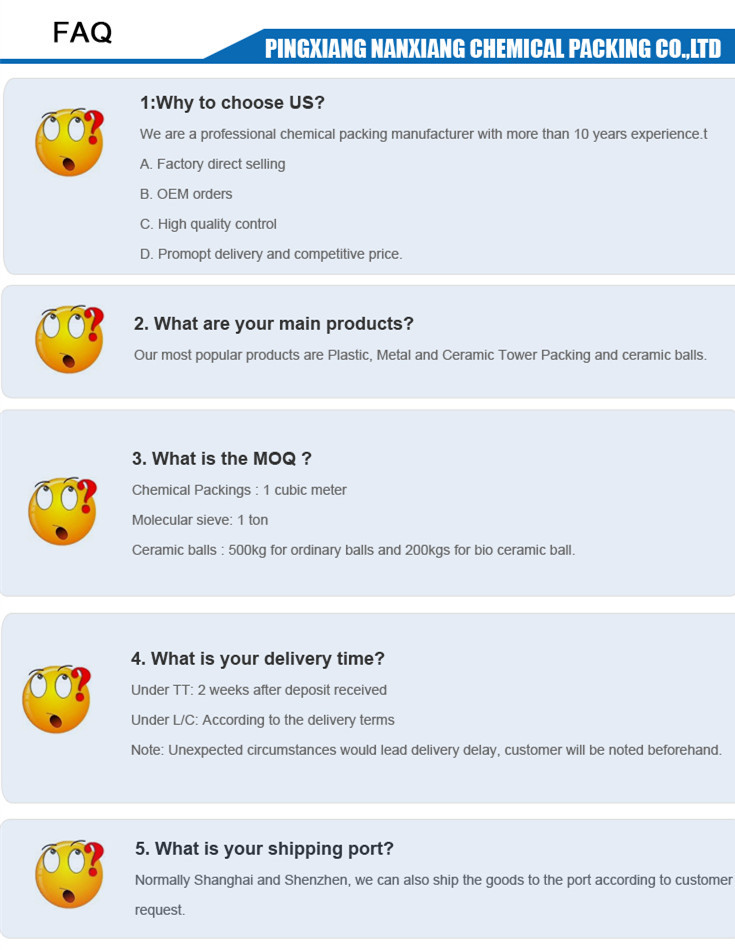 Pingxiang Nanxiang Chemical Packing Co.,Ltd was located in Pingxiang City , which boasts for its long standing reputation for packing industry, one of the five biggest bases in China. Our company is in the West Section of Pingxiang Hi-Tech Industrial Park, enjoys convenient transportation, which ensure provide customer prompt delivery. 

Pingxiang Nanxiang Chemical Packing Co., Ltd. is an Pingxiang based mass transfer technology company that develops, manufactures, installs, and supports a wide range of mass transfer equipments and ceramic products for modern chemical processing industry, water treatment industry, petrochemical industry, high temperature combustion technology etc. 

Nanxiang's main manufacture products are: random and structured chemical packing in ceramic, plastic & metal material, Molecular Sieve, Ceramic Ball, honeycomb ceramics, etc used in all types of petrochemical & chemical processes and environmental applications, and Alumina Grinding Balls & Lining Bricks used as grinding media.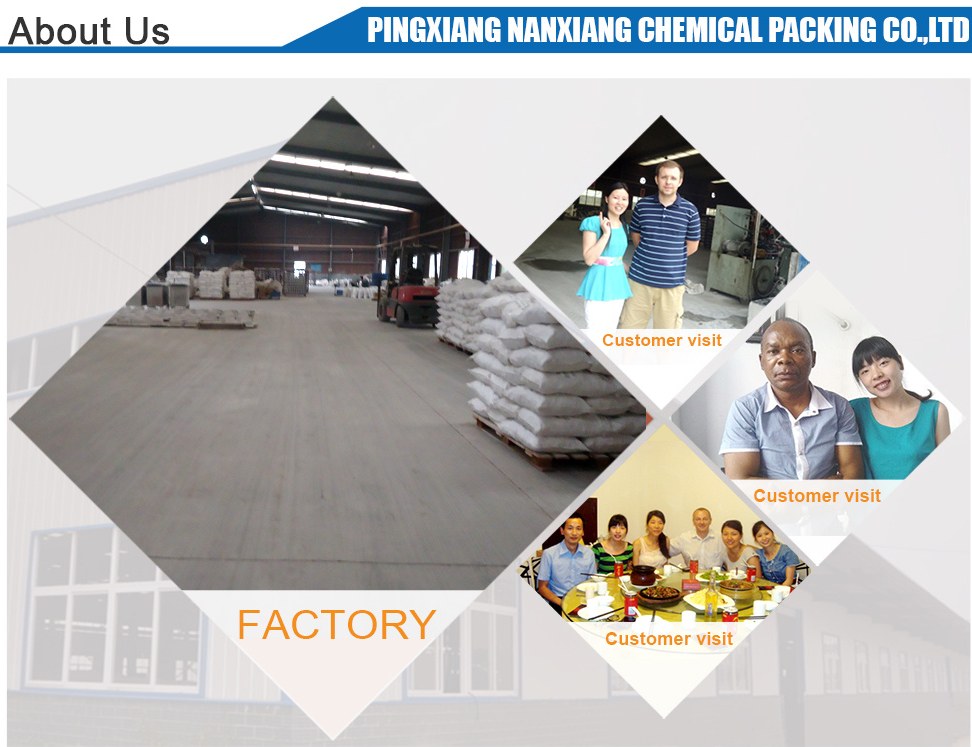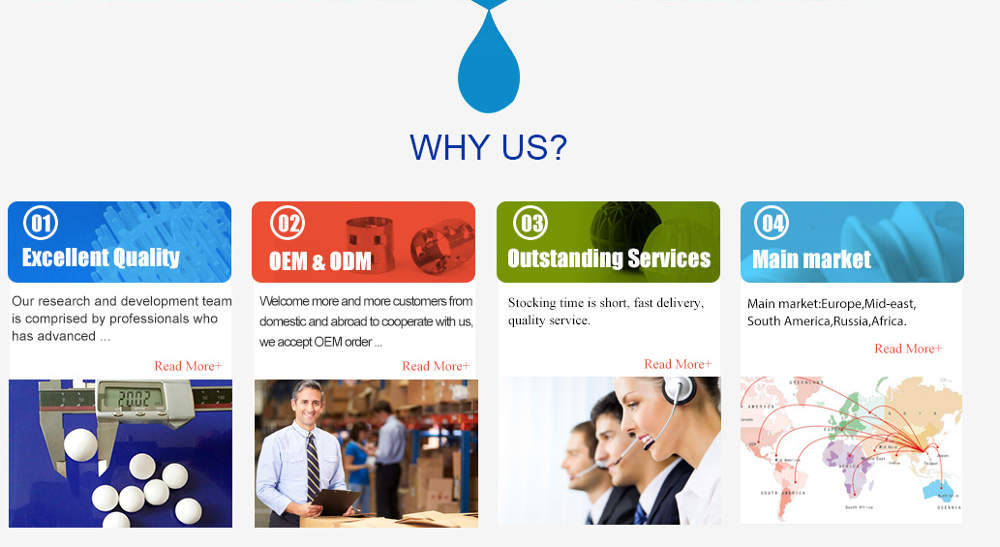 Product Categories : Ceramic Foam Filter