magic nano washing balls laundry ball for washing clothes machine
magic nano washing balls laundry ball for washing clothes machine
| | |
| --- | --- |
| Packaging: | Magic Era Washing Balls Carton box |
| Brand: | NANXIANG |
| Place of Origin: | China (Mainland) |
Product Description
Laundry Ball ceramics balls
| | |
| --- | --- |
| ITEM NO: | JQ-02 |
| PRODUCT NAME: | High quality laundry ball |
| Material: | TPR |
| PACKGE: | 2PC/WHITE BOX |
| SIZE: | 8*8CM |
| PCS/CTN: | 100PCS |
| N.W: | 14KGS |
| G.W: | 15KGS |
| PACKING SIZE: | 44*43*44CM |
| CBM: | 0.085CBM |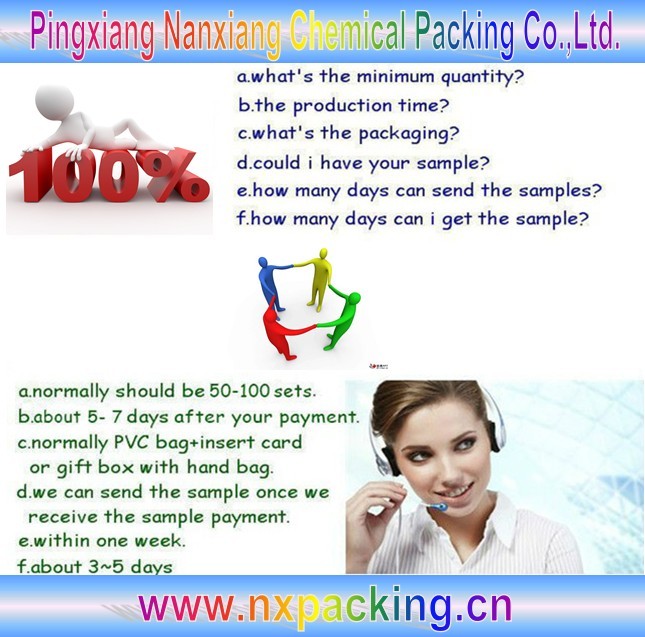 Principle of the ceramic balls
1,Antibacterial Ceramic Ball 
The Antibacterial Ceramic ball eliminates the pathogenic organisms in the washing machine, Resisting and killing golden staphylococcus and colibacillus ,also activates the water to increase the cleaning strength.
2,Far Infrared & Negative Ions Ceramic Ball 
The powerful far-infrared rays from the Washing Ball break water olecule's hydrogen-combinations into small clusters and force the small water cluster being activated to increase it's molecular motions,penetration force, and washing power. and it radiates negative ions to weaken the surface and inter fabric adhesion so that the dirt can come off easily without any detergent.  
3 Alkaline ceramic ball
The Alkaline Ceramic Ball keeps the PH spectrum at the water no need ordinary chemical detergent and it helps to remove oil-dirt from clothes.
Advantages
1, the washing ability is no less than the traditional washing detergent, so it can replace the general washing detergent. but the whitening and antibacterial ability is much more better than that of general washing detergent. 
2, Free of harmful chemicals such as phosphor and boron, so it can protect cloths and skin well, especially suiting for babies and children's cloths and adults' underwear etc. 
3, Can be used perennially and repeatedly, have a good function in saving water and power
Features
1.No hazardous substance remains after washing.
2.No electrostatic phenomenon.
3.Save the consumption of water and electricity.
4.Revive vivid cloth's color.
5.Cut down water pollution.
6.Remove various kinds of bacteria.
7.Get rid of bad smell in cloth & washing machine
How to use :
1,put the cloths into the machine, then put the laundry balls, no need to add any general washing detergents. 
2, Collapsible, cuff or stubborn stains, pre-processed with stain stick before putting into the machine. 
3, Start to washing after 15 to 30 minutes' dipping, washing it as usual, the washing ability will be better if dipped for 60 minutes. 
4, Use 1 balls when the cloths is below 3kgs, 2 balls when over it. 
5, Keep balls ventilated after used, dry them naturally, repeat the steps above next time. 
6, Clean laundry balls every month, dry it in the sun.
Please note:
1, The Laundry balls can stay in the machine all the time, but it will be better after being dried naturally, prolong the using life. 
2, Suitable for all the washing machines. 
3, Filled with solid ceramic balls, never used as toys for children. 
4, Suggestion: no use to industrial use or large-scale washing such as laundry shop, but can be used for antibacterial. 
5, Washing separately between different colors of or easy-fading cloths.
Use time
The designed using life is 3 years or 1000 times, but Laundry experts just suggest that change the refill ceramics or the laundry balls after 12 months' using so that to get a better washing ability.


Product Categories : Laundry products