PP Demister Pad | PP Knitted Wire Mesh/ Plastic Mesh Pad/PP Mesh
PP Demister Pad | PP Knitted Wire Mesh/ Plastic Mesh Pad/PP Mesh
| | |
| --- | --- |
| Packaging: | Wooden cage ,Standard Export . Plastic/carton Package |
| Brand: | NANXIANG |
| Place of Origin: | Jiangxi, China (Mainland) |
Product Description
1. PP Demister Filter/ Wire Mesh Demister / Plastic Mesh Pad
Knitted wire mesh,vapor-liquid mesh, mist eliminating mesh, knitted wire mesh for demister, shielding metal wire mesh,shielding wire mesh
PP plastic mesh pad is a kind of wire mesh knitted in particular type. Mist eliminator is used for wire mesh demister, oil-gasseparator, dust remover,dedusting apparatus, environmental protection device, various separating and filtering devices, filtering eliminate for auto and tractor, sealing, shock absorption, muffling and purifying components for auto, as wellas used for electromagnetic interference and shielding devices for electric apparatus.
Wire Size: 0.08mm - 0.30mm flat wire or round wire. Single-strand knitted, multi-strand knitted, metal & non-metal (various fibers) knitted wires may be pressed into various specification of corrugated wire as require.
| | |
| --- | --- |
| Type | Specification |
| Standard type | 40-100   60-150 105-300   140-400  160-400  200-570 |
| High-efficiency type | 60-100  80-100 80-150 90-150 150-300 200-400 300-600 |
| High-penetration type | 20-100 30-150 70-400 100-600 170-560 |
| Damping type | 33-30 38-40 20-40 26-40 30-40 30-50 48-50 30-60 30-80 50-120 |
With the aid of latte technology, we manufacture precision designed PP Wire Mesh Demister or PP Demister Pad that are metal & PP wire knitted pads with maximum opening and contact surface. Available in various aperture sizes and dimensions, it's useful to trap liquid droplets escaping along with vapor that prevents high boiler products droplets carry-over into low boiler top condenser.
2. Production Process of PP Demister Filter/ Wire Mesh Demister  / Plastic Mesh Pad
PP plasticmesh demister pad, remove droplet by impingement on the wire surface. The liquid collected on the filaments is then able to drain from the pad under gravity. They have a limited range of useful operation in which they provide almost complete removal of droplets down to about 3-5 microns. Turndown range of vapor rate is around 3:1. At excessively high vapor velocities, the liquid droplets that impinge on the wire surface are sheared off by the vapor and re-entrained before they are able to drain.
3. Benefits of PP Demister Filter/ Plastic Mesh Pad / Wire Mesh Demister
*Easy to install in all process equipment 
*Most cost-effective solution when equipment sizes are set by other requirements
*High efficiency with low pressure drop
*Emergency delivery available
4. Specification of PP Demister Filter/ Plastic Mesh Pad / Wire Mesh Demister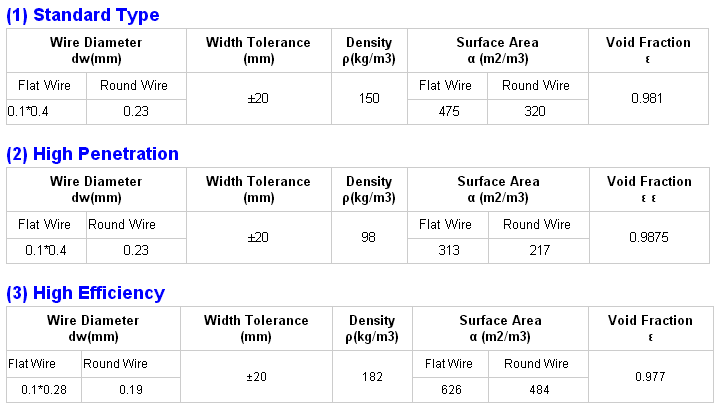 As for other specifications, we can supply the products according to customer's requirements.
Product Categories : Ungrouped